The best bits of plant nutrition research right on your desk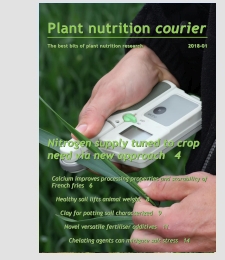 The best bits of plant nutrition research right on your desk - so is the Plant nutrition courier best characterized. Each issue of this digital bimonthly newsletter has a feature about plant nutrition related research and short news items related to both plant nutrition and plant and soil analysis. Furthermore this special interest newsletter reports about innovative plant nutrition products, about novel fertiliser formulations and about recently introduced local products of general interest. Last but not least each issue of the Plant nutrition courier has a column with hyperlinks to relevant publications.

Beneficial nutrients news
Plant nutrition courier includes the formerly digital bimonthly Beneficial nutrients news.
So, beneficial nutrients now are a regular part of every Plant nutrition courier issue. In short articles and newsflashes the Plant nutrition courier will provide you with information about research and use of silicon in agriculture and horticulture. The newsletter reports also about selenium and other beneficial nutrients. The information about beneficial nutrients is completed by a column with direct hyperlinks to abstracts of recent published literature.

News service
Via the news pages on this website Plant nutrition courier gives previews and publishes plant nutrition related news that is beyond the scope of the newsletter but that still may be of interest. Additionally to specific plant nutrition related news the website also offers news about agronomic research of general interest.

Editor
The Plant nutrition courier is produced by freelance journalist Gert van den Berg.

Free issue, subscriptions and single issues
Click on the following links for a free issue, for information about a subscription and for single issues.
Colophon | Terms & conditions | Privacy statement